Gary Anderson
I recently qualified as an ADI and David Mitchell was my instructor through out my learning process . The way David acted and treated me was way beyond anything I expected . He is a man that is clearly at the very top of his profession . His training methods are second to none . Even when I thought I was having a bad day David would always find positive things that happened during the lesson so I always left the car feeling good . I am very grateful for everything he has done for me during my learning and would advise anyone thinking about training to become an ADI to give David a call and see if he can help you towards a new career the way he helped me . Thank you very much David .
David Paton
I recently qualified as an ADI and Dave Mitchell was my tutor throughout the process. On my assessment drive Dave realised that as a Police driver my driving was of a high standard and did not tinker with things too much but ensured that I prepared correctly for the part 2 practical drive. For part 3 of the process Dave really came into his own and I am very appreciative for the coaching and direction that Dave gave me which ultimately led to my qualification. Dave is very good at understanding what the best learning process for you is and explains things in a very clear manner. Dave is a great guy and I would have no hesitation in recommending him as a driving instructor for somebody learning to drive or anybody that wishes to train to be a driving instructor.
Farrah Bastable
David is an excellent driving instructor. He coaches you through things, moves at your pace but will push you out of your comfort zone when you need it. He allows you to make mistakes so you can learn how to fix them. He's thorough and will nitpick everything but the result of this is that you become confident and competent. He's patient and takes time, also he is encouraging and positive. But the cherry on the cake is he'll still have a wee news with at the end of the lesson and can have a laugh. I would highly recommend David to anyone looking to learn how to drive.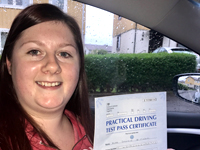 Danielle Findlay
I would highly recommend David as an instructor. He was very patient and kind with me. I always felt relaxed when learning with him. He would always push me in to get better and he always believed in me.
Lidia Kujawska
David Mitchell was my instructor for over a year. He was able to identify source of all my mistakes from 20 minutes of driving. I was very nervous driver, I did not trust myself, had 4 different instructors before him, but I was amazed by this knowledge, skills and approach to myself. He does listen and try to find the best solution for myself. He does read you like an open book. David does not push if you have bad day, but try to find bright side of each lesson, although if you could perform better he would tell you. It is great to see how he works around LDC rules and student's ability. If he praised me I was pretty sure that I have done extremely well (it didn't happen very often). I would recommend David to any student – young or older. Dave has intuition and follows his own judge. I can say he is the right person to teach anyone to drive. He mentioned that he is teaching for 11 years, what a pity he didn't start earlier. We would definitely have much more better and safer drivers in Aberdeen and Aberdeenshire. David is very reliable and honest driving instructor, always on time, always calling or texting if he couldn't show up (it happened only few times). I am very grateful to David for teaching me and I know it wasn't easy. Last thing – if you expect Dave to teach you how to pass the driving test - do not go there. His aim is to teach you how to be safe driver for yourself and other road users. Passing the test is only the beginning of your driving experience, but with Dave's tips and hours of driving I know I can do it.
Chloe
Having been with another driving instructor and having failed my test twice I got in touch with David to assess my driving. Getting in touch with him was the best thing I ever did as it turned out my previous instructor was not very experienced and had in fact taught me some manoeuvres incorrectly. I only had a few weeks until my next test and David took me on and with incredible patience and expertise corrected my "faults" and got me on the right track. So much so that I have now passed my test and that is all due to David's intervention. He was very patient and encouraging and explained everything so well. I was very much at ease in his car which was new to me having previously driven a corsa but again he got me through my test. So big thanks to David for all his help and I would not hesitate to recommend him to anyone wanting to learn to drive.
Alison Light
We contacted David over the festive season to give my father a driving assessment after being involved in an accident. David was superb and very prompt in getting back to us to arrange a date. He customer service was excellent and put my father at ease throughout the whole assessment which can be daunting for anyone. His approach was so professional but with a personal touch, nothing was too much trouble for him and was a pleasure to deal with and would high recommend David without hesitation. Wish I had David when I was learning to drive.
Craig Campbell

David Mitchell is a well experienced and high recommended driving instructor to do lessons with, the best instructor you could get.

Cheers for everything Davie!
David Evans
I started as an absolute novice and had no idea how to operate a car at all. I can't believe how far I came in my time under David's instruction. He built me up slowly and was incredibly patient and understanding when I was finding something difficult. It took time and a lot of hard work on both parts, but I passed my driving test on the first attempt and this entirely down to the quality of his instruction. If you are an absolute novice or a little nervous, David is certainly the instructor for you!
Lana Smith
Thank you Dave for you're patience throughout my driving lessons. You really helped me to gain confidence and improve on my driving despite my nerves and negative attitude toward my driving ability! After failing 3 times I doubted my chances of ever obtaining my drivers licence but because of you're encouragement and excellent training I passed my 4th driving test with a clean sheet. Now I can enjoy the freedom that comes with having my licence and my own car. Thanks again.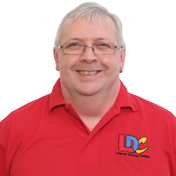 Mike Tough
I recently qualified as a driving instructor with Dave Mitchell as my tutor. What a privilege it has been to be taught by Dave as his standards are second to none. He has brilliant people skills and I cannot emphasise enough how good a tutor he is. Dave will make you feel relaxed and comfortable during training as he is very patient and understanding of your exact needs, tailoring every session accordingly, Dave would push me along in our sessions but keeping it within my comfort zone, If I was having a specific problem Dave would give me that bit extra to get it sorted out, always giving me feedback and encouragement as I progressed. Thank you Dave I'll be forever in your debt.
Alastair Field
I was feeling the stress of 3rd attempt at part 3 deciding to go to a different test centre and my LDC instructor in Inverness guided me in the direction of David Mitchell. David was upbeat and worked hard with me to familiarise myself with the area and build on my regular LDC instructor's teaching. He fitted me in to his busy schedule and through his knowledge of the practical requirements on the day I passed. Thanks for your support.
Rachel
I recently completed a semi-intensive course with David and his excellent instruction helped me to pass first time. He is calm and clear and his relaxed manner helps you to relax too. David doesn't spoon feed you but helps you to always think about what you're doing and why so you really learn what needs to be done - he says he wants you to learn to drive, rather than just pass the test and he did that very well. He is also very good at encouraging you to push yourself further than you think you are able, and judges well what you can do. He started me on more familiar roads but in time pushed me to try areas I was nervous about (Haudagain roundabout, Union Street), all of which I will have to drive at some point, and it really boosted my confidence a lot when I realised they weren't as bad as I feared! I also found the book that accompanies the course was a brilliant resource and really helped me to be clear about what I was doing before lessons. I am in my 40s and this was my first try at learning to drive - the whole thing was a very positive experience and I would absolutely recommend him to anyone looking for an instructor.
Jonathan Green
It is mainly down to David's patience and commitment that I passed my driving test at the first attempt. He was able to adapt his style to suit me as I have dyslexia and dyspraxia, by slowing things down and allowing me to learn at my own pace! This is not an achievement to be underestimated as these learning disabilities in concert make leaning to drive extremely difficult, if you search the internet for information the advice is to give up! However despite the odds being stacked against us, David believed in me, and thanks to his careful instruction I passed! David is the third instructor I have had, and was by far the best. He taught me loads of stuff I did not pick up from my other instructors and did not mind going over things again and again when I kept forgetting them! David trains his pupils to a high standard and to get the most out of his lessons you have to put the work in, but the reward of being able to drive independently, safely and with confidence is defiantly worth it. If you want to work with someone who is dependable, hard working, genuinely cares about his pupils, and will not just coach you to pass a test but will mould you into a safe driver, then David is your man.
April
David is one of the most outstanding driving instructors I have ever had the privilege to be taught by. He encompasses all the qualities you'd expect from a driving instructor; i.e. he is extremely patient, friendly, analyses the problem and suggests solutions rather than tell you that you've something wrong, and best of all, he gives a lot of encouragement and instils confidence even if you don't think you can do it. Not only is he very understanding and adapting when you have other commitments; but he also re-caps and plans every lesson while taking into account your thoughts and opinions from the last lesson, rather than "Here's what you're going to do today". I remember not being able to steer properly for the first couple lessons, and rather than giving up, he would demonstrate and spend a little more time to make sure I had the basics correct before carrying on. You can tell that he is very passionate about his job, and really puts his whole heart and soul into teaching you to become a brilliant driver, and it is because of this that I was able to pass first time! If you're looking for a skilled, experienced and super nice instructor to learn in Aberdeen and surrounding areas, I highly recommend David - you will not regret it!
Claire Bailey
Dave is a fantastic driving instructor. I have had a bad with a previous instructor and moving to train with Dave was the best decision I ever made! His patience is fantastic and will do everything he can to make you feel comfortable and confident. I was completely at ease in the car and to be honest driving felt natural when learning with Dave as he explained things fabulously! I had 20 lessons with Dave and passed my driving test first time! I would recommend him to anyone starting their lessons 100 times over!
Stephen Ross
David is a very professional and patient driving instructor who was essential in providing me with the confidence and training to pass my driving test first time.. Every lesson I had with David was enjoyable and any problems I encountered were dealt with in a calm, relaxed manner. I would highly recommend him for anyone planning on learning to drive.
Caitlin Imray
David is a exceptional driving instructor. From my first driving lesson he made me feel comfortable and safe. He explains things clearly and uses a variety of methods to ensure that every subject is understood. His approach is calm, clear and very thorough; not to mention he has the patience of a saint! Would highly recommend him to anyone learning to drive- top instructor, top guy!
Douglas
Excellent by definition; of the highest order. I found David's standard of teaching to be of the highest order, lesson after lesson. He is always fair and understanding, he will identify where improvement is needed and will break it down in to easy to understand stages. David always gave praised where praised was needed. After coming from a previous driving instructor who never really inspired me with confidence David very quickly built up my confidence in particular when driving on dual-carriageways. Even after I failed my first driving test David took the points I failed on and helped me improve on them. In a very short space of time David thought me allot of invaluable skills, techniques and advise. Thanks Douglas
Rachael Milne
Thank you David for teaching me to drive in just 4 weeks. I highly reccommmend your two hour lessons and in particular the programme of daily lessons during the week before my test. You worked me hard both during the lessons and reading the useful theory book; It was intensive and really prepared me well for my driving test. Your patience was great and although sometimes I was pretty terrified you kept me calm and I quickly gained confidence. I really appreciated you taking me out on roads I was familiar with to begin with and also the fact that you were so flexible sometimes picking me up from home and sometimes from outside 'Mr Chips'.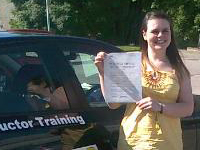 Miss Jen Hardman
After previously undergoing driving lessons with three instructors, in 1 instance someone crashed in to my car, I lacked in confidence and thought I would never be able to pass my test. I then found out I had to move away from Aberdeen so I decided to try and learn how to drive again. My boyfriend had passed with LDC and enjoyed the programme they had so I decided to do an intensive course with them. When booking my course all the staff at LDC were more than helpful when deciding the right course for me and kept me up to date in the progress when finding me a driving instructor. My driving instructor, Dave Mitchell, also contacted me the same day I was informed by LDC who I was having. He was friendly on the phone and suggested I get prepared by starting to work through the booklet and the DVD. Before my first lesson I was very nervous as it had been a while since I had last driven and I had been a nervous driver then. When I got into the car Dave quickly put me at ease by asking about my past experiences and saying how he teaches his lessons. I felt I was in capable hands as he has a lot of experience with the Army, the fact he is a Grade 6 instructor and he also instructs other instructors. As my lessons went on Dave strived to realise where I had problems before and would fix them by asking why it was happening and how I could improve my skills. My confidence grew as Dave praised me. My confidence levels soared more as I was encouraged to go out of my comfort zone and try things I had never done before, like country driving and driving along Holborn and Union Street. He always encouraged me to be an independent driver by asking myself what I should be doing and getting me to talk through the process. After 3 weeks of hard work Dave assured me I was ready for my driving test and I went for it. I managed to pass with only 2 faults. Throughout the process Dave reminded me he taught to standards that were better than the driving test and he was right. Dave was a great instructor and I would recommend him to anyone that wants to learn how to drive. He is friendly and is 100% dedicated to getting his learners to be safe drivers that allow them to pass their test and carry on to be safe drivers their whole lives.